Boost African network operator receipt by Lintratek signal booster
What's different of application for different network operators?
When we get weak signal in home, office, elevator, shopping mall or in other rural area, we may think that there should be a cell phone signal booster working here. But before you go to purchase a full kit of mobile phone signal booster, you should know that we should choose a suitable device according to the network operators what we are using.
In African countries, the main network operators are these: MTN, Orange, Telecel, Airtel, Vodacom, Telkom, Cell C and other local companies.

Here we would like to show you the differences and similarities among these network operators in Africa:
1.Most network operators in Africa supply 2G, 3G in different countries. We are also shown 2G is GSM, and 3G is UMTS. But in some countries, the 4G (LTE) is applicated.
2.The signal frequency of 2G, 3G and 4G of this operator could be different, normally 2G(GSM) is of 900mhz or 1800mhz, 3G(UMTS) is of 2100mhz, some places' 4G(LTE) is of 1800+mhz. But sometimes the frequency of 2G, 3G and 4G from different network operators can be different.
Therefore, if you want to boost signal of 2G, 3G and even 4G, or you and your family or friends are using different network operators, you might purchase a multi-band signal booster instead of single band signal booster, so that the device can be more efficient.
Here we would like to recommend you some suitable combination of signal booster and booster antennas according to what network operators you are using.
Optional combination for boosting signal of 2G GSM
Optional Combination

Full Kit

Content

Coverage

Band Frequency

Network Carriers

 

KW16L single band*1

Yagi antenna*1

Whip antenna*1

10-15m cable*1

Power supply*1

Guide book*1

50-100sqm

E-GSM (900mhz)

Or

DCS (1800mhz)

 

 

KW23C dual band*1

LPDA antenna*1

Panel antenna*1

10-15m cable*1

Power supply*1

Guide book*1

300-400sqm

GSM+DCS

(900+1800)

Or

GSM+WCDMA

(900+2100)

 
 

KW20L quad band*1

LPDA antenna*1

Panel antenna*1

10-15m cable*1

Power supply*1

Guide book*1

200-300sqm

GSM+DCS+

B1+B3

(900+1800+2100+

LTE1800)

 
If you want to purchase according different building structure and its range, click here for reference.
If you want to purchase for resell as a wholesaler or distributor in your local places, contact our professional sales team to reach a marketing plan.
Client Nick is from Uganda, he found us saying that he wanted to boost the cell phone signal receipt of his office. After communicating with him, we learnt that he and his staff are using MTN, Airtel and Telecom at the same time. After we checked the frequencies of these network carriers, it showed us matching 900mhz, 2100mhz and 2600mhz. Therefore, our salesman Mark recommend him this AA23 triple band signal booster to solve Nick's problem.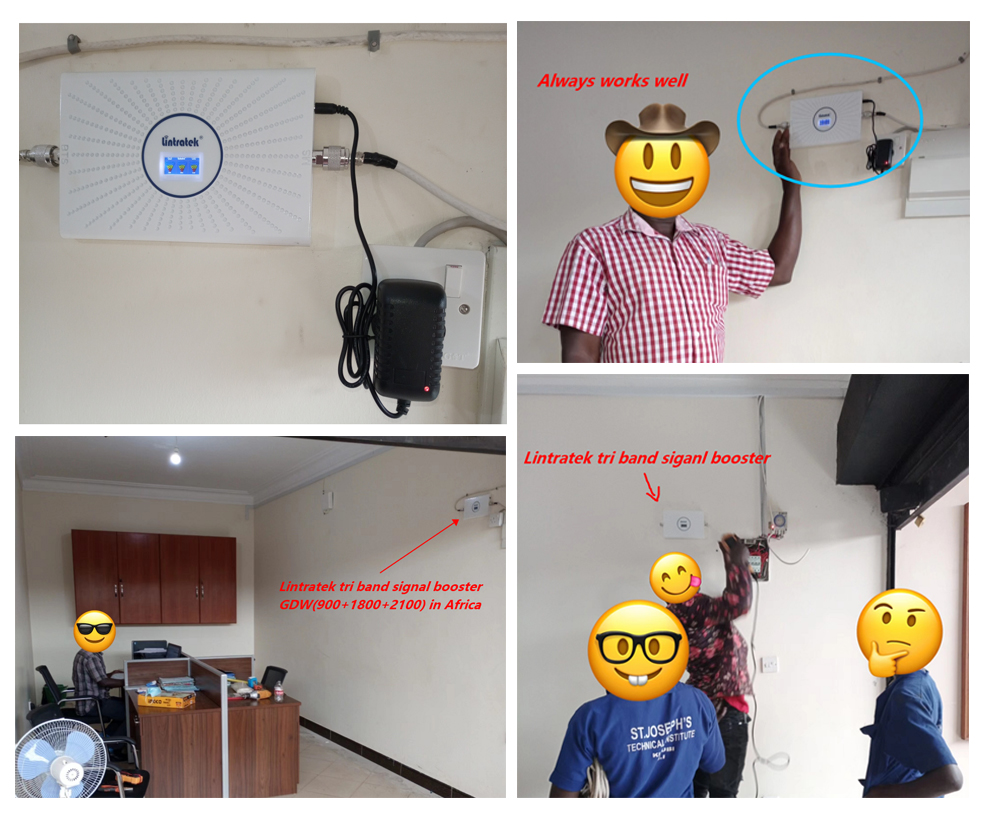 How to check the frequency of network carrier that we are using?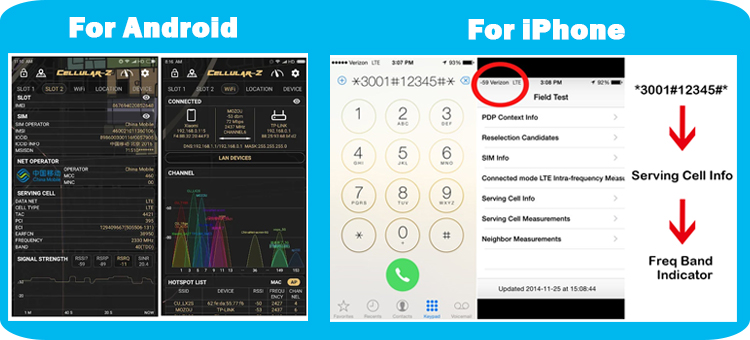 A.For Android
1.Download APP Cellular-Z or Network Cell Info Lite
B.For iPhone
1.Dial *3001#12345#*
2.Click "Serving Cell Info"
3.Check the "Freq Band Indicator"