KW35A powerful mobile wireless signal repeater MGC AGC function multi-band 90db gain for installing outdoor rural area
We supply OEM&ODM Service
Return Within 30 Days!
One-Year Guarantee & Life-Long Maintenance !
Product Detail
Product Tags
We supply KW35A powerful mobile wireless signal repeater series with single band, dual band and triple band, although the outlook design is same. BTW, this series has been updated compared with the old version, therefore, it can cover each frequency band combination:
Single band: KW35A-DCS/GSM/WCDMA/-LTE(B20)/TDD-D
Dual band: KW35A-CD/CG/CP/GD/GW/DW/TDD-GF
Triple band:KW35A-CDW/CGD/CGW/GDW/TDD-CDD/TDD-GDF

Feature

Muti-band MGC waterproof outdoor signal booster

Outlook Design

Black metal or color customized with LED display screen

Size

330*240*130mm, 6.95kgs

Package Size

3390*310*210mm, 7.51kgs

Supporting Frequency

Single Band

KW35A-CDMA: 850MHZ

KW35A-GSM: 900MHZ

KW35A-DCS: 1800MHZ

KW35A-WCDMA: 2100MHZ

KW35A-LTE(B20): 800MHZ

KW35A-TDD-D: 2600MHZ

Dual Band

KW35A-CD: 850+1800MHZ

KW35A-CG: 850+900MHZ

KW35A-CP: 850+1900MHZ

KW35A-GD: 900+1800MHZ

KW35A-GW: 900+2100MHZ

KW35A-DW: 1800+2100MHZ

Triple Band

KW35A-CDW: 850+1800+2100MHZ

KW35A-CGD: 850+900+1800MHZ

KW35A-CGW: 850+900+2100MHZ

KW35A-GDW: 900+1800+2100MHZ

KW35A-CDD: 900+1800+2600MHZ

KW35A-GDF: 900+1800+1900MHZ

Max Coverage

5000sqm

Output Power

30±2dBm

35 ±2dBm

Gain

80 ±2 dB

90±2dB

Ripple in Band

≤6dB

MTBF

>50000 hours

Power Supply

AC:100~240V, 50/ 60Hz;DC:5V 1A

EU / UK / US standard

Power Consumption

< 5W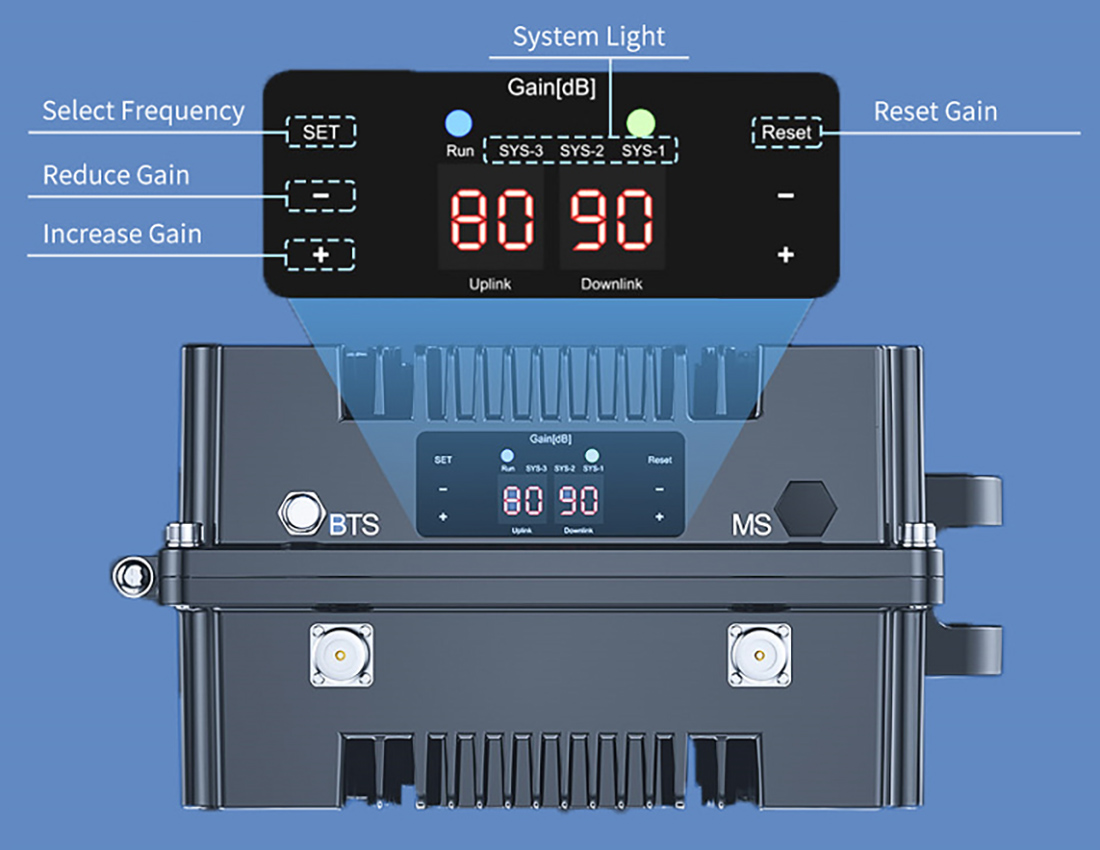 With AGC and MGC function, the device KW35A powerful mobile wireless signal repeater brings a lot of convenience for the customer. Because of the wireless signal environment of the local place and the distance between the application and the base station are uncertain for clients before they receive the parcel. After installing the full kit of KW35A powerful mobile wireless signal repeater, if the system light turns red, that means the signal receipt of the application is too strong or the self-interruption effect of machine happens, therefore the clients need to adjust manually reducing the gain to make sure the function work normally.
KW35A powerful mobile wireless signal repeater can improve cell signals in buildings up to about 50,000 square feet, depending on the booster kit. Active DAS boosts signals for massive buildings, stadiums, shopping malls and other spaces over 50,000 square feet that have a very high count of simultaneous users. Actually, in many large-area building or space like parking lot and shopping mall, or somewhere with high population density just like subway station and business buildings, the cell phone signal receipt would be very poor even could be NO SERVICE without signal booster.

Following there is the working principle of KW35A powerful mobile wireless signal repeater, for example in the parking lot: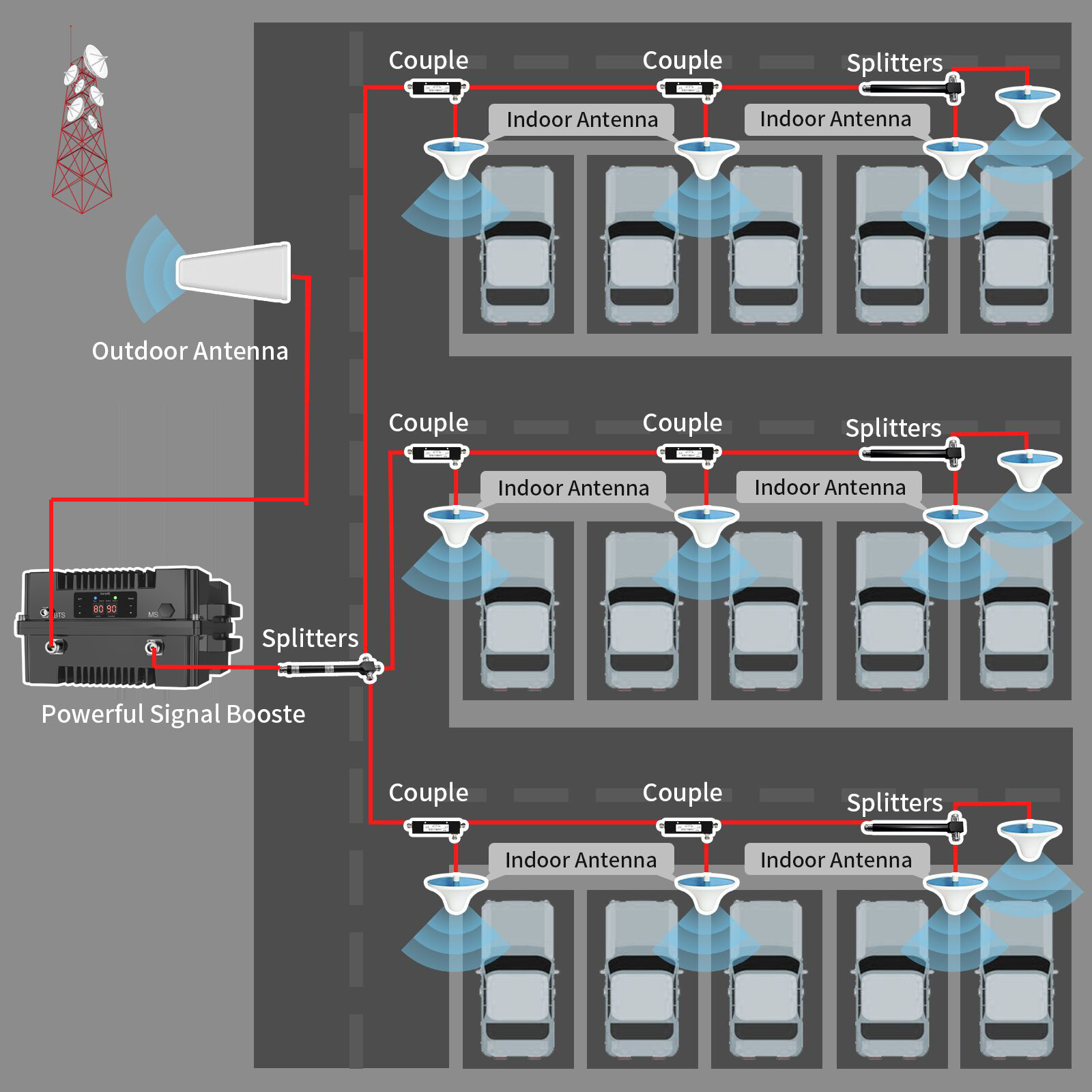 1.Before you install the system of KW35A powerful mobile wireless signal repeater, you should confirm that there are 3-4 bars of mobile signal receipt outside of the parking lot, because if the outside signal is too weak, the device cannot work actually.
2.Install outdoor antenna outside on the roof or somewhere is unobstructed. And make sure that the outdoor antenna points straight to the signal tower just like what the picture shows. The outdoor booster antenna normally is wide band LPDA antenna or wide band Panel Antenna.
3.Install KW35A powerful mobile wireless signal repeater and use length-customized cable to connect the repeater with the outdoor antennas, now you can realize that there are some couples and splitters between the signal booster and the indoor antennas.
In different places, the installation plans of KW35A powerful mobile wireless signal repeater are different. If want to cover a whole village or rural area far from the base station, we suggest you to choose both panel antennas as receipt antenna and transmission antenna or choose grid as receipt antenna.
1. Can I customize my own logo and outlook design of the device?
Yes, Lintratek is manufacturer with more than 10-year experience, we supply clients OEM&ODM service as they purchase meeting MOQ.
2. Do you accept installment plan?
We accept installment plan if you order a big amount, 30% as prepayment for production material and 70% as final payment for shipping.
3. Can I get free sample of Lintratek signal booster?
We don't supply free sample, but if you continue to cooperate with us, we will supply you discount in the formal order as compensation of sample.
---
Previous:
KW20L cell phone UMTS 5-band signal booster mobile network operator enhancing 2G 3G 4G 70dB gain with AGC function
Next:
OSG-20NK grid antenna 20dBi 24dBi WiFi or cell phone wireless signal receipt with frequency range customization service
---