KW20L cell phone UMTS 5-band signal booster mobile network operator enhancing 2G 3G 4G 70dB gain with AGC function
We supply OEM&ODM Service
Return Within 30 Days!
One-Year Guarantee & Life-Long Maintenance !
Product Detail
Product Tags
KW20L cell phone UMTS 5-band signal booster can be covered to five signal frequencies.
For example:
In Europe countries normally the network operators cover 800/900/1800/2100/2600mhz for 2g 3g 4g. The most important thing is they all used very frequently. Then, five band booster can be matched clients need. However, not each place is with five signal frequency. So, if you are not sure of which model you need to purchase, you can contact with us and we will help you check with it and send you optional network solution. We have dual band, triple band or quad band signal booster models for your choice.
Feature

Five (Penta) band AGC mobile network signal booster

Outlook Design

Black metal or color customized with LCD display screen

Size

245*165*32mm, 1.25kgs

Package Size

328*228*58mm, 1.55kgs

Supporting Frequency

KW20L-LGDWL 700/800+900+1800+2100+2600MHZ;

KW20L-LCDWL 700+800+850+1800+2100MHZ;

KW20L-LLCPA 700(B12+B13)+850+1900+1700MHZ;

KW20L-LLCPA 700+850+1900+1700+2600MHZ;

Bandwidth

17M+10M+25M+60M+45M

Max Coverage

800sqm

Output Power

15±2dBm

20 ±2dBm

Gain

55 ±2 dB

70±2dB

Ripple in Band

≤6dB

MTBF

>50000 hours

Power Supply

AC:100~240V, 50/ 60Hz;DC:5V 1A

EU / UK / US standard

Power Consumption

< 5W
Following there is the working principle of KW20L cell phone UMTS 5-band signal booster: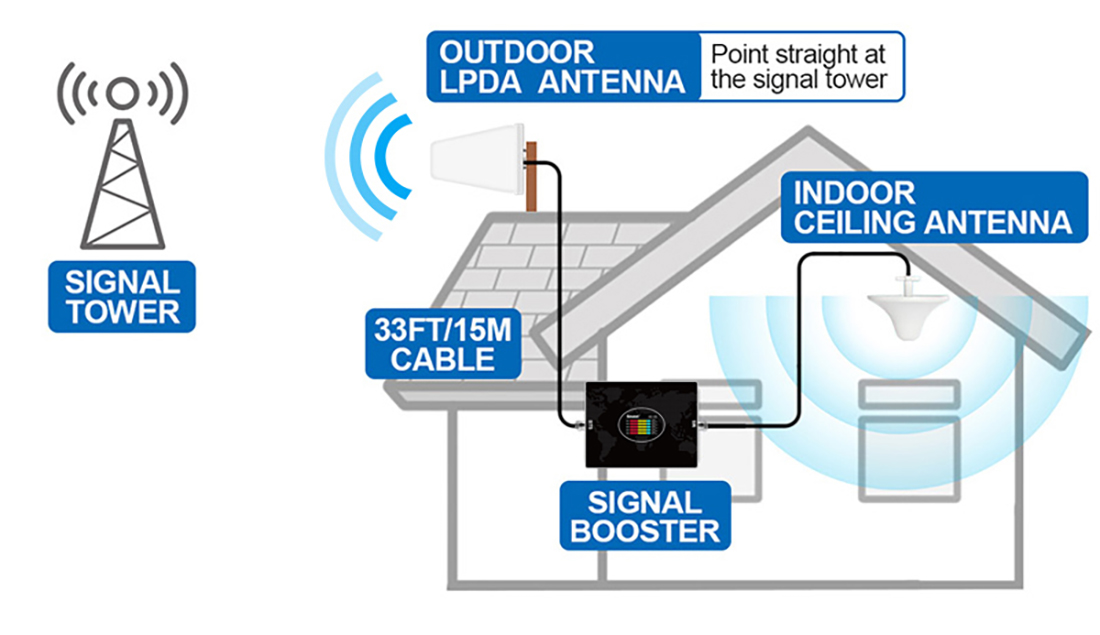 1. Before you install the device, you should confirm that there are 4 bars of mobile signal receipt outside of building, because if the outside signal is too weak, the device cannot work actually.
2. Install outdoor antenna on the roof or somewhere is unobstructed. And outdoor antenna better point straight to the base station just like what the photo shows.
3. Install KW20L cell phone UMTS 5-band signal booster inside home and use 15m cable to connect the booster with the outdoor antenna. But the most important thing is about isolation. Isolation between outdoor and indoor antenna should be had a brick wall to separate. If not, try to enlarge their distance.
4. Finally, use cable to connect KW20L cell phone UMTS 5-band signal booster with indoor antenna. About the indoor antenna, we have ceiling antenna, panel antenna, whip antenna and 360-degree desktop antenna for your choice. If you need to cover 2 floors or more area, we will suggest you to connect with more than two indoor antennas.

5. Then turn on the booster and check the function work. If it doesn't work well, contact lintratek sales team for help.
Lintratek mobile signal boosters are suitable in many different places wherever the mobile signal receipt is poor like tunnel, rural are, shopping mall, basement, KTV room, etc.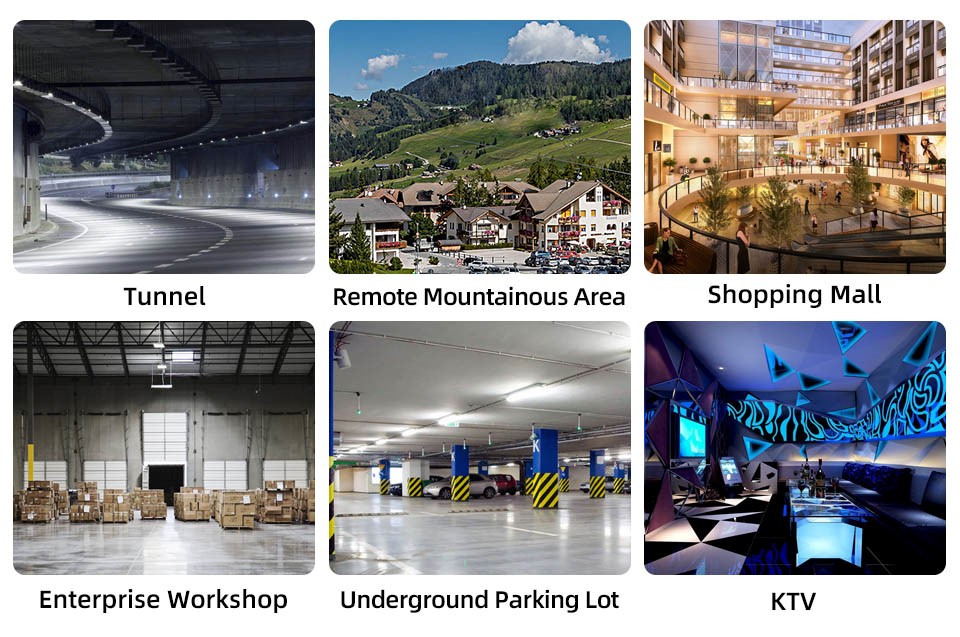 And for different size of the application, the network solutions are different, for example, like KW20L cell phone UMTS 5-band signal booster.
1.If coverage is 100-200sqm, you can consider for full kit with 1 indoor panel antenna.
(Full kit includes: outdoor LDPA antenna, outdoor 15m cable, booster, indoor panel antenna with 2m cable, adapter.)
2.If coverage is more than 200sqm or with 2 floor building, then you can consider for two to three indoor antennas.
(Full kit includes: outdoor LPDA antenna, outdoor 15m cable, booster, 1m cable, 2-way adapter, 2 indoor panel antennas, indoor cable 5m or 10m, adapter.)
If you are confused about the installation plan, you can contact with us for more professional suggestions.
1. Do you have signal booster for long distance signal transmission?
Yes, we also supply powerful repeater and fiber optical repeater for long distance signal transmission, about 1-3km.
2. How can I know the best installation suitable for my place?
You can supply us blueprint of your building that you want to cover. We will plan the most reasonable installation draft for you.
3. Can only connect one piece of indoor antenna with the signal booster?
No, you can install more than one piece of indoor antenna meeting your demand, we supply 2-way or 3-way splitter for you to realize it.
---
Previous:
KW20L 4G cell phone network booster DCS LTE Band 28 metal outer covering AGC function 70dB high gain with 12 months warranty
Next:
KW35A powerful mobile wireless signal repeater MGC AGC function multi-band 90db gain for installing outdoor rural area
---