KW20L quad band GSM signal repeater mobile phone signal enhancing 2G 3G 4G 70dB gain AGC with 10-year manufacturing
We supply OEM&ODM Service
Return Within 30 Days!
One-Year Guarantee & Life-Long Maintenance !
Product Detail
Product Tags
KW20L quad band GSM signal repeater can directly cover for 2g 3g 4g, especially 4g has two signal frequencies. For example:
Chile phone carriers has 2 types of 4g signal frequencies like 1700mhz or 700mhz. then they can choose for quad band 850/1900/1700/700mhz. But when you choose the quad band booster, the most important thing is about the antenna signal frequency wide band or not. Because if not, it can't be used. But don't worry, when you make order from us, we can consider for you and send you the matched antenna.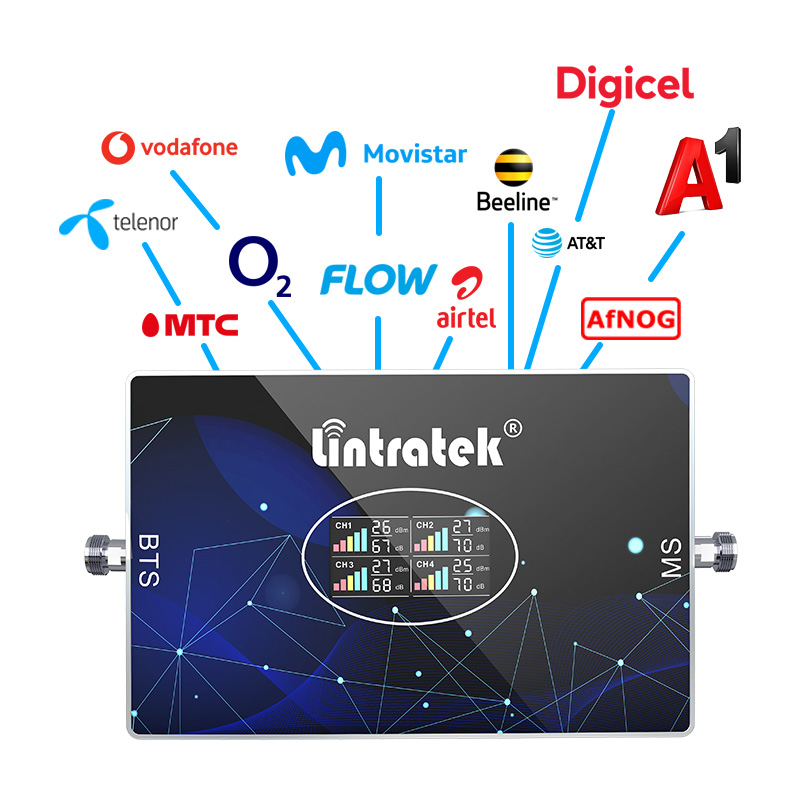 Feature

Quad band AGC mobile phone signal booster

Outlook Design

White metal or color customized with LCD display screen

Size

247*138*28mm, 0.98kgs

Package Size

265*175*75mm, 1.27kgs

Supporting Frequency

GSM+DCS+WCDMA+LTE 900+1800+2100+2600/700MHZ;

CDMA+GSM+DCS+WCDMA 800+900+1800+2100MHZ;

CDMA+DCS+WCDMA+LTE 850+1800+2100+2600MHZ;

LTE+CDMA+PCS+AWS 700/2600+850+1900+1700MHZ

Bandwidth

30M+25M+75M+60M

Max Coverage

600sqm

Output Power

15±2dBm

20 ±2dBm

Gain

55 ±2 dB

68±2dB

Ripple in Band

LTE-B20≤6dB;GSM≤6dB;DCS≤6dB;WCDMA≤6dB

MTBF

>50000 hours

Power Supply

AC:100~240V, 50/ 60Hz;DC:5V 1A

EU / UK / US standard

Power Consumption

< 5W
Then here i can introduce the working principle of KW20L quad band GSM signal repeater:
1.At outside, confirm a place where with better signal at 4 signal frequencies.
2.Install outdoor antenna at the better signal site. And outdoor antenna better point to the base station.
If you don't know how to check with it, you can contact with us. We can help you deal with it.
3.Install booster inside home and use 15m cable to connect with them. But the most important thing is about isolation. Isolation between outdoor and indoor antenna should be had a brick wall to separate. If not, try to enlarge their distance.
4.Finally, use cable to connect with KW20L quad band GSM signal repeater and indoor antenna.
Then turn on the booster.
Pay attention: if you want to check the booster ok or not? You can directly turn on booster to test.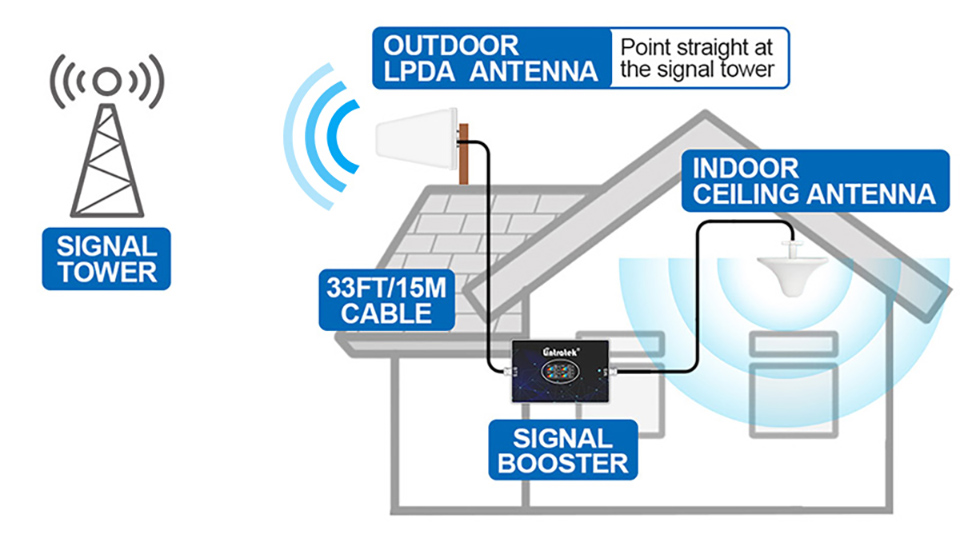 Lintratek signal amplifier are suitable in many different places where the mobile signal receipt is poor like tunnel, rural are, shopping mall, parking lot, KTV room, etc.
And for different size of the application, the network solutions are different, for example, like KW20L quad band GSM signal repeater.
1.If coverage is 100-200sqm, you can consider for full kit with 1 indoor panel antenna.
(Full kit includes: outdoor LDPA antenna, outdoor 15m cable, booster, indoor panel antenna with 2m cable, adapter.)
2.If coverage is more than 200sqm or with 2 floor building, then you can consider for two to three indoor antennas.
(Full kit includes: outdoor LDPA antenna, outdoor 15m cable, booster, 1m cable, 2-way adapter, 2 indoor panel antennas, indoor cable 5m or 10m, adapter.)
If you are confused about the installation plan, you can contact with us for more professional suggestions.
1. What is the isolation said above?
Isolation means between indoor and outdoor antenna there can be a brick wall or long distance.
2. How to test outdoor signal strength?
You can download a cell application named "Cellular Z" and show us screenshot content. We will check for you.
3. What about lintratek signal booster warranty?
All of lintratek signal booster or others supporting products' warranty is about 12-24 months.
4. Why the signal booster it does not work well after following the installation guide?
It is better to check if there is signal interference. You can contact with us for solution.
---
Previous:
KW17L mobile phone signal booster GSM UMTS dual band 65dB gain output power 17dbm upgraded core for home and vehicle
Next:
KW16L 4G mobile booster cell phone network frequency customization 65dB gain 16dbm output with optional N SMA Female connector
---